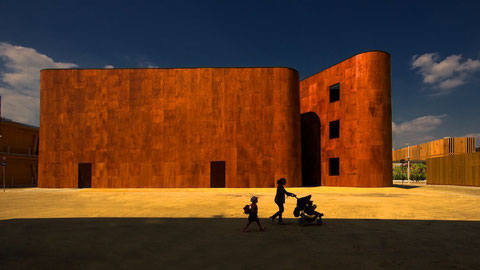 KIP project
"Attractive territories for a sustainable world" is the motto of KIP, a support agency to UN and FAO humanitarian organizations, meaning that to feed the planet and its poorest inhabitants, governments and enterprises have to invest in local projects.
The pavilion that Italian architect Antonio Marincola designed for KIP reinforces this principle. It is a village consisting of four houses grouped around a square.
"The project originates with the aim of creating a symbolic place of meeting and cultural exchange. The small group of houses features the structure of a Mediterranean village and, through the use of natural materials, gives the idea of ​​architectural spontaneity" architect Marincola explains.
Flowing, captivating lines characterize the complex. It welcomes visitors at the EXPO entrance
 as Pavilion 1. Okumé wood panels line the four volumes with a deliberately irregular texture to suggest the tradition of handicrafts.
The first volume is entirely devoted to explain KIP's activities, the second on contains a restaurant with a show-cooking area dedicated to world food and has a roof garden for outdoor events. 
In the adjoining pavilion, a conferences hall welcomes up to two hundred people. In the fourth volume  a shopping area with products from 60 countries occupies the ground floor, while upstairs the offices of the organization are located. 
Conceived as a place where different and distant worlds meet, the KIP Village appears as a naïve, almost metaphysical entity in the high-tech landscape of the EXPO structures 
.
The elementary lines of the four volumes give way to a series of visual, tactile, sensorial experiences with nature. 
At the same time the project represents an ideal synthesis between tradition and progress.
In it high technology coexists with the spontaneity of handicraft and pays homage to the principles of sustainability. Organic forms define the volumes whose lightness is inspired by primary models, like the waves of the ocean and the winds of the desert. The use of recycled or recyclable materials reinforce the message of preserving terrestrial resources.
Technology is meant to serve the environment: the structure of the four pavilions
consists of a metal grid. It acts as a breathing barrier between the buildings and the surrounding landscape, almost turning the architectures into living entities vibrant with energy.
They are interactive boxes, ideal transmission belts of a universal message: respect the environment.
The soft lines of the structures and the warm tones of the timber panelling that seems to catch fire in the sunset hours establish an immediate relationship with visitors and invite them to enter.
Inside, they find an easy perception of spaces, functionally permeable and flexible. Due to mobile walls and sliding panels, they can be easily reconfigured in different areas, thus renewing the intensity of the emotional impact.
La Nuvola di Massimiliano e Doriana Fucksas